Looking for holiday lights in the Worcester County area? Here are a few we would like to let you know about. Check the websites for the major locations before visiting to make sure they are open on the night you would like to visit.
Worcester:
1. Worcester Holiday Light Show - Santos Family Lights, 60 Pasadena Parkway - up and running on Thanksgiving evening
This is a drive through display. Tune into 98.1FM. They typically have a Toys for Tots drop off box and last year accepted donations for Tufts at Tech. For the donations visit santosfamilylights.remoteFalcon.com they accept PayPal and Cashapp.
2. Festival of Lights, Worcester Common Oval - 455 Main Street
The City's annual Festival of Lights event will begin on Friday, December 1, 2023 from 4:30 - 9 p.m. on the Worcester Common Oval. This free, family-friendly event will host a number of lighting features, ice skating, food vendors, community organizations and performances. A highlight for Festival of Lights visitors is the lighting of the tree, which will take place at 6 p.m. with more than 15 food vendors, a beer tent, community organizations, a visit from Santa, face painting, interactive roving circus performers, fire performances, and carriage rides. There will also be live performances throughout the evening, including the Burncoat High School Quadrivium Chorus, Roosevelt Elementary, Rice Square, and AMPP Youth. Complimentary ice-skating during Festival of Lights is made possible by Blue Cross Blue Shield of Massachusetts. Skaters may bring their own skates or rent on the Oval for $5 per pair.
3. Kelley Square Tree Lighting Extravaganza - Canal District Holiday Stroll, 1 Kelley Sq, Worcester, MA 01610
Dec 2, 2023 starting at 12pm. Tree Lighting at 5:00pm
Self-guided stroll of the Canal District Businesses with our Tree Lighting at 5PM in Kelley SQ. The Canal District Holiday Stroll is from noon-8pm.
4. Cornwell Holiday Display, 26 Dawson Rd
Daily from 5-10pm - tentative start date is Saturday 11/25
Come visit our Christmas displays in the West Tatnuck area of Worcester! We've got over 185 inflatables at our house for Christmas. Happy Holidays! The display is (weather dependent). Feel free to drive up the driveway, but do not walk through the display. Donations accepted for: Why Me & Sherry's House Our Venmo is @Alex-Cornwell-8.
5. Steven's Christmas Show, 49 Carpenter Ave
Open daily, most nights until 10pm.
We will be turning the light show on to start the season! Come and see the new additions! Remember to tune your radio to 89.3 but also if weather permits feel free to get out and get a closer look just remember to not block the driveway with your vehicle, we do share it with out neighbor and need to keep it open. Enjoy the show! Below is a link to the new Barbie themed show in 2023: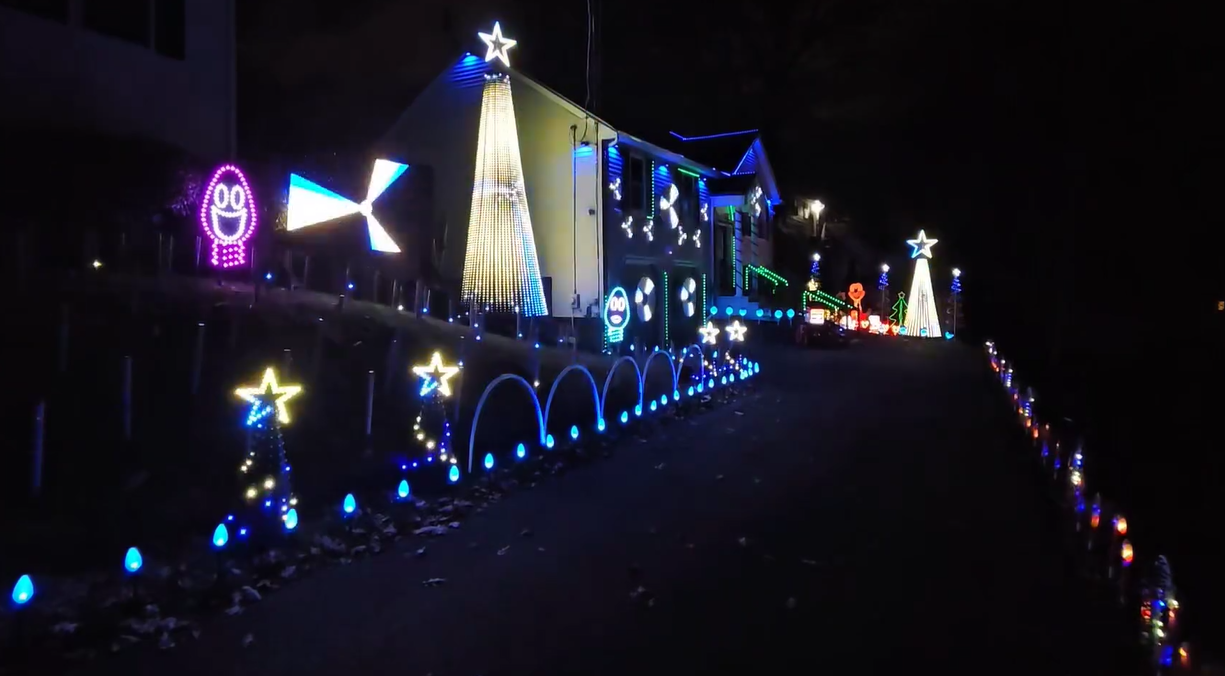 Shrewsbury:
Annual Yuletide Market & Light the Common, Shrewsbury Town Common
December 2, 2023 at 4:45pm
The Yuletide Market & Light the Common was conceived by the STCA to bring people of all ages together to celebrate our Town Center and the holiday season. Join us for our fourth year of this popular tradition on Saturday, December 2, on the Town Common. The Yuletide Market opens at 4 p.m. and at 4:45 p.m., more than 31,000 lights on the Common will be flipped on in a dazzling display!


Westborough:
2023 updates: The Westborough Spirit Committee announces the 2023 Holiday Light Hunt! Get YOUR holiday light display "on the map"! The deadline to register your lights is 12/10, and the map will be published shortly afterward so you can drive around Westborough and see all the beautiful lights. Happy Holidays, Westborough!
2023 Westborough Holiday Light Hunt signup
Holliston:
Fatima Shrine, 101 Summer Street
Dec 7-27, 2023 from 5-9pm each night
Drop by, dress warmly as this is a walkthrough display. Light display is free, there is a snack / gift shop concession inside. Gift shop is open: Open from 11:00 am – 6:00 pm Thurs. – Sun.
(508) 429-8172
Attleboro:
2023-24 LA SALETTE CHRISTMAS FESTIVAL OF LIGHTS, 947 Park St.
Thursday, November 23, 2023 - Monday, January 1, 2024, Illuminations 5:00 - 9:00pm Daily, Featuring 400,000 Lights illuminating over 10 acres, FREE ADMISSION (BUT DONATIONS ARE APPRECIATED!) We look forward to seeing you at our annual Christmas Celebration! The lights will be on even on Christmas night, when the Shrine is closed, but the lights will still be illuminated.
Lancaster Light Show:
Fairgrounds, 318 Seven Bridge Road, Route 117, Lancaster, MA 01523
Fee based event
November 24-December 30, 2023
Daily from 5 pm - 9:00pm
Monday – Thursday: 5pm – 7pm & 7pm – 9pm (last admission at 8:15pm), $24.99 (online purchase) per car, $30 on-site, $40 per limousine, 12/15 person, passenger vans, small bus, Friday – Sunday & Holidays (Dec 24 and Dec 25), 5pm – 7pm & 7pm – 9pm (last admission at 8:15pm), $24.99 (online purchase) per car, $30 on-site, $50 per limousine, 12/15 person passenger vans, small bus


Do you know of a kid-friendly holiday lights event taking place in Worcester and Beyond that isn't listed here? Please submit your event here and we will add it to our list!
Interested in going for a drive across the state to see the best displays? Check out this article! Call first.
Worcester Macaroni KID is a free weekly newsletter and website focused on fun family events and information in the greater Worcester area.
We gather together all kinds of local family events and activities each week, and add useful information about classes, family-focused businesses, book and product reviews, recipes, crafts, camp guides and more. We proudly serve 12,000+ families in Worcester, Shrewsbury, and Westborough.
Subscribe today to receive our email newsletter every Wednesday!
Follow us on Facebook or Twitter.
Advertise with us to connect with thousands of local families!